Transit Updates on Vermont Rail Plan and Airport System Plan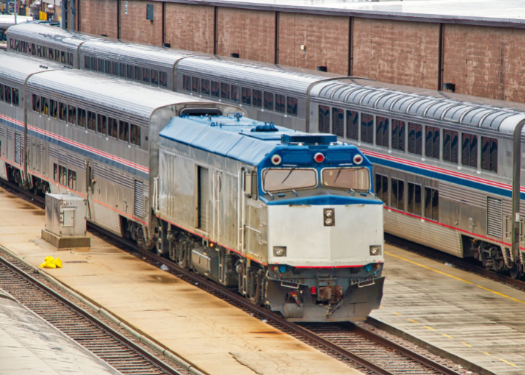 By Chris Carrigan, Vice President of Business Development
Vermont Rail Plan Readies the State for Recovery

Rail is an essential and integral component of Vermont's "multimodal transportation system" that moves freight, passengers, and visitors and drives our economy. With 580 miles of active track, Vermont's rail system moved 6.9 million tons of freight in 2018. Over the past five years Amtrak service carried 95,000 passengers in Vermont annually. While the COVID-19 pandemic suspended rail service by Amtrak in March, 2020, the draft Vermont Rail Plan presented by the Vermont Agency of Transportation (VTrans) offers a commitment to restore service and provides important updates and recommendations that will ready the State as we work toward recovery. For example, extension of the Ethan Allen Express to Burlington, with stops in Vergennes and Middlebury, will begin running in 2022 and allow passengers and visitors to travel between Burlington and New York City. Extending the Vermonter, which operated daily between Washington D.C. and St. Albans, to Montreal is included in the first priority set of recommendations, along with rebounding from the pandemic, improving passenger rail stations, and upgrading State-owned freight rail lines. The Vermont Freight Plan will be released later in 2021. As a member of the Freight Plan Advisory Committee, the Vermont Chamber applauds the work that VTrans is doing to modernize our rail infrastructure and ready the State to recover from the pandemic and move our economy forward.

Vermont Airport System Plan Essential for Recovery

Civil aviation, according the Federal Aviation Administration, generated $1.17 billion in economic output, accounted for $298 million in earnings, supported 9,505 jobs, and represented 2.2% of Vermont's gross domestic product. Then the pandemic happened in 2020 and passenger traffic for both commercial and private aviation suffered a drastic decline, crippling the travel and tourism industry. Now as we see a hopeful light at the end of the tunnel with vaccinations on the rise we also have the Vermont Airport System plan by the Vermont Agency of Transportation (VTrans). The draft outlines a 20-year strategic plan for developing and maintaining the State's sixteen public-use airports with recommendations to improve and modernize. From runway extensions and technology upgrades to new facilities and services, such as restaurants, the plan's recommendations are key components of economic development and essential as we work towards recovery and travel rebounds. Additionally, and, importantly, the plan is visionary, making recommendations to support electric aircraft development and related infrastructure upgrades. Electric vertical takeoff and landing (eVTOL) aircraft, such as Vermont-based Beta Technologies, will electrify aviation, revolutionize the way we travel, and is the future of urban mobility. As a member of the Governor's Aviation Council, the Vermont Chamber supports the important work VTrans is doing to propel our airports, which serve as engines of commerce and economic development, forward and into the 21st century.  ​