Over the past twenty-one months manufacturers have weathered the pandemic and now face several challenges. Supply chain bottlenecks and disruptions have arisen due to a rapid rebound in customer demand for commodities, supplies, materials, and goods. The lack of semiconductor chips, for example, continues to negatively impact the U.S. auto industry. Illustrating the degree of disruption, the price of new vehicles soared 11.1% in 2021.
Fueled by strong consumer demand and shortages of goods amid a snarled supply chain, U.S. inflation hit a four-decade high in December with the Consumer Price Index (CPI) rising by 7%, the highest since 1982 according to the Labor Department. Rising inflation is also outpacing wage growth.
Along with inflation, the world is in an energy crunch and manufacturers are bracing for soaring energy and utility costs. Additionally, and, exacerbated by the Great Retirement, Reshuffle, and Resignation, manufacturers now face worker shortages. Not surprisingly, manufacturer's sentiment dropped in December according to the Institute for Supply Management.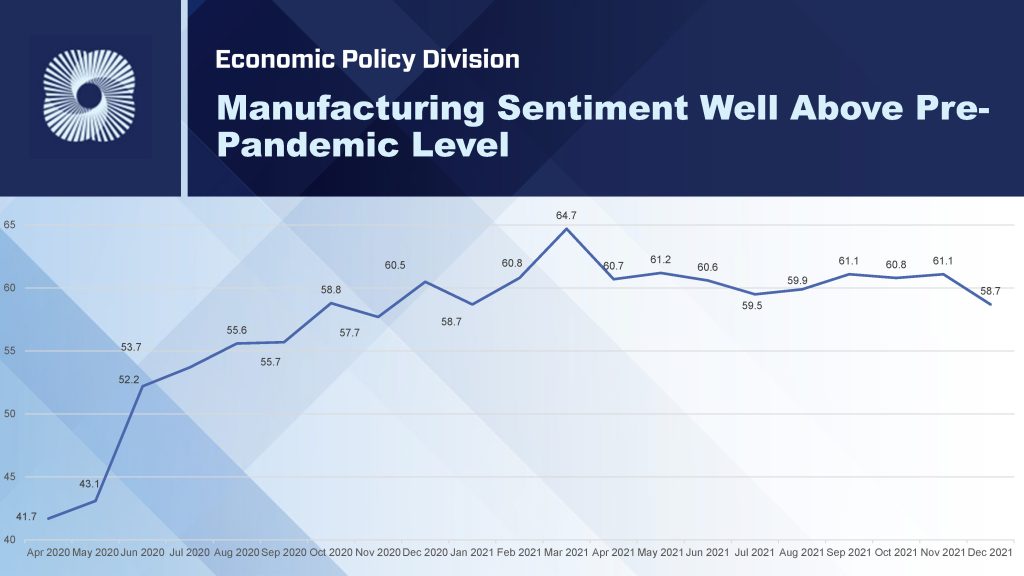 While supply chain, pricing pressures, and workforce challenges will persist in the new year, new orders for manufactured goods increased 1.6% from October to November, according to the U.S. Census Bureau, supply delivery times improved, and the manufacturing sector overall continues to expand. Sentiment remains strongly optimistic for Q4 and 2022 according to the National Association of Manufacturers.