Vermont Chamber of Commerce Welcomes New Board Members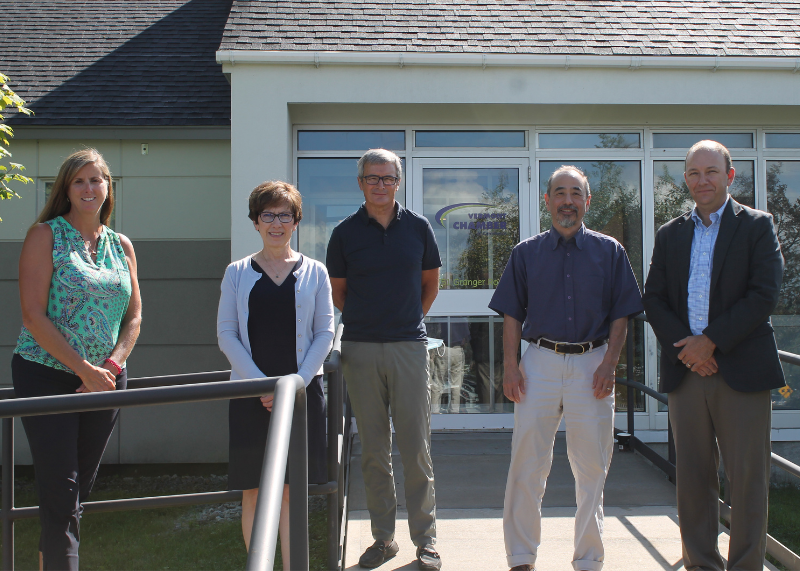 The Vermont Chamber of Commerce welcomed six new Directors to the Board: Mané Alves of Vermont Artisan Coffee & Tea Company, Kathy Austin of Community National Bank, Keith Jones of National Life, Teresa Kajenski of Fothergill Segale & Valley, Roger Nishi of Waitsfield and Champlain Valley Telecom, and Chiuho Sampson of A Single Pebble. The Vermont Chamber also thanks continuing Board Members, who are listed on the organization's Board of Directors page.
Collectively, the Board is committed to helping further the Vermont Chamber's mission to ensure a thriving Vermont economy. In 2021, significant legislative priorities advanced that will help businesses recover from the pandemic. With continued challenges ahead, the Vermont Chamber is dedicated to ensuring businesses across the state recover and Vermont's economic future is bright.
Incoming Chair of the Vermont Chamber Board Peter McDougall, President of Paul, Frank + Collins P.C., said, "Over the last decade, Vermont Chamber leaders have focused on diversifying the Board of Directors to reflect the state's business makeup. In addition to ongoing efforts to diversify leadership, the Vermont Chamber will continue working towards meaningful change in support of equity and inclusion."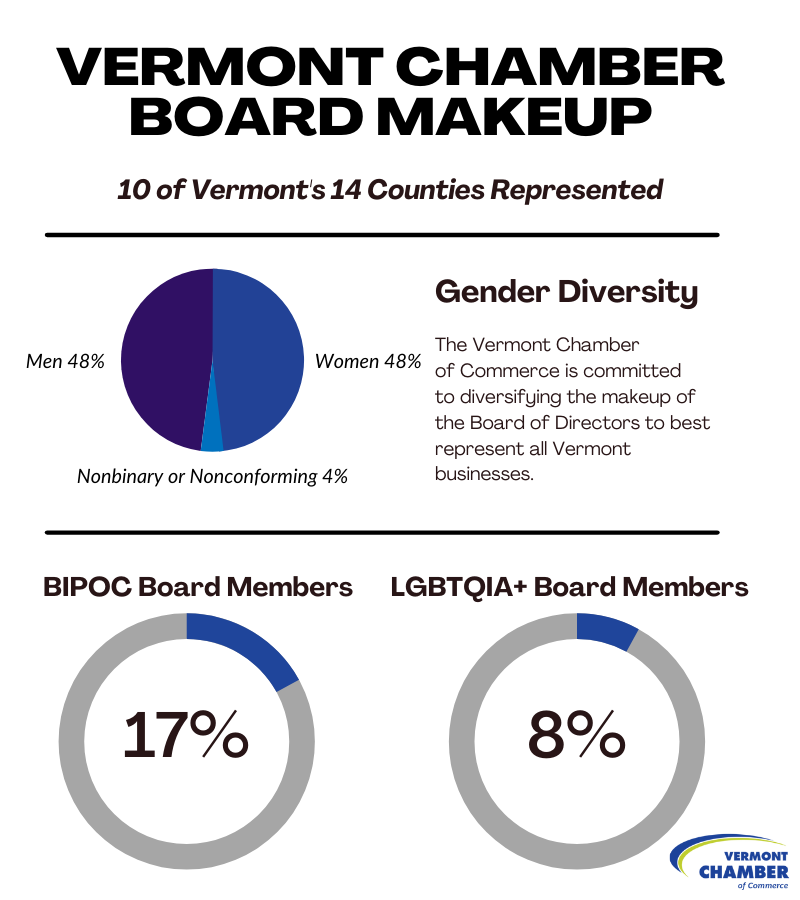 The Vermont Chamber's current Board of Directors consists of 48% women, 48% men, 4% gender nonbinary or gender nonconforming individuals, 17% BIPOC individuals, 17% immigrant, refugee, asylee, and/or foreign-born citizens, and 8% LGBTQIA+ individuals. Board members work in varied industries across 10 of Vermont's 14 counties.
Vermont Chamber of Commerce President Betsy Bishop said, "It is important that all Vermont businesses see themselves and their needs reflected in our leadership and work. We welcome and thank all our Board Members who will help us strengthen Vermont's economy and be committed to our diversity, equity, and inclusion (DEI) efforts." 
Chair of the Vermont Chamber's DEI Task Force Willie Docto, Co-Owner of Moose Meadow Lodge, said, "The Board is committed to integrating DEI programming into the Vermont Chamber's work for sustainable, collective impact. We are creating an action plan and will partner with others to further this work."
Vermont Chamber Membership Engagement Director Sophia Yager is leading the outreach effort with an intentional focus on BIPOC businesses to gather a greater understanding of needs so the Vermont Chamber can organize resources to support all businesses. You can connect with Sophia Yager by email to learn more and get involved.