Vermont Chamber Hosts Business Roundtable with Sen. Ram Hinsdale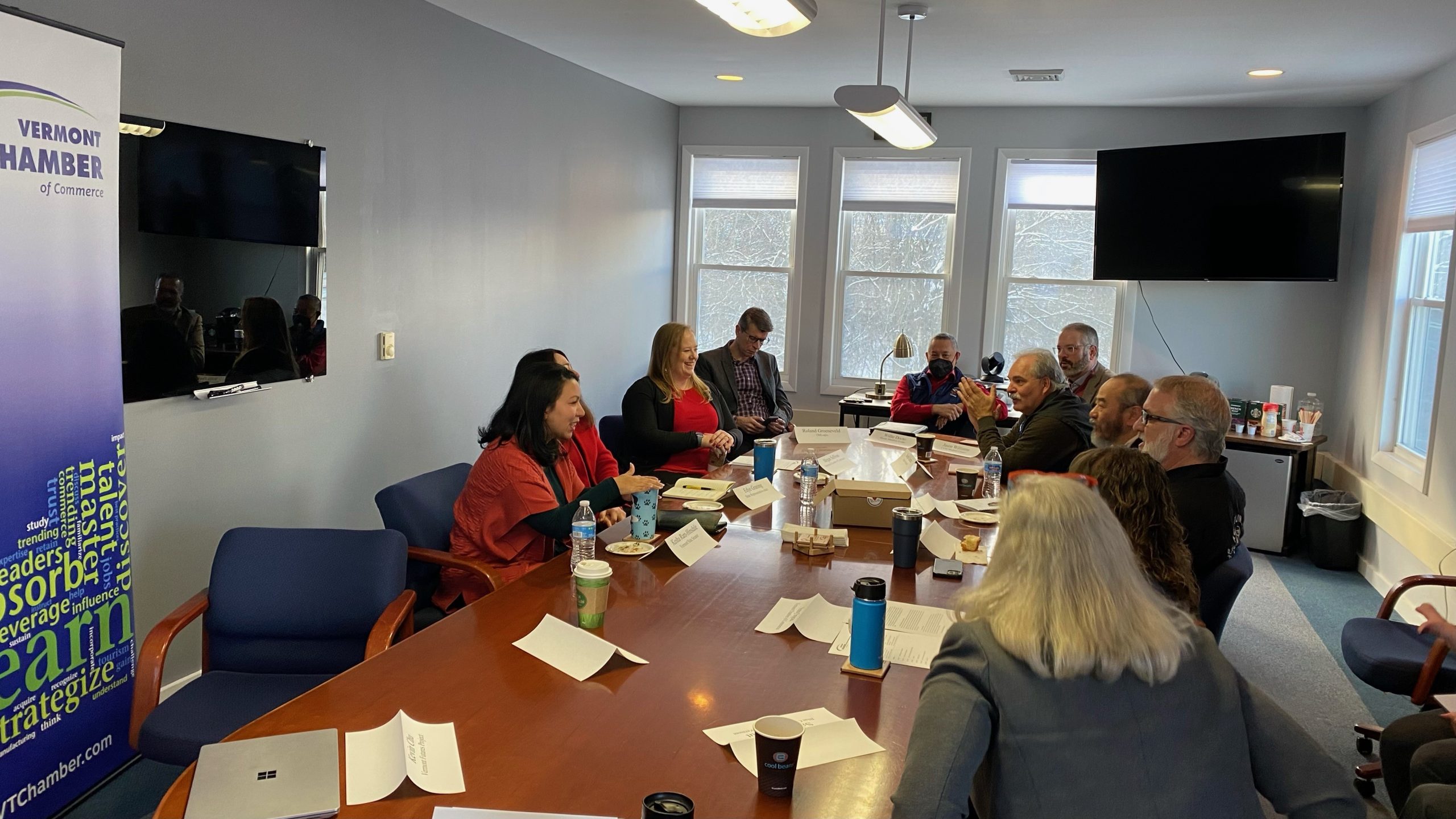 Vermont business leaders voiced their economic concerns and urged action on workforce and housing initiatives at a roundtable discussion with State Senator Kesha Ram Hinsdale. The meeting, hosted by the Vermont Chamber of Commerce, centered on the top issues facing the business community in advance of the legislative session.
"It is essential that policymakers understand the impact of legislation on Vermont businesses and the broader impacts on the economic vitality of Vermont," stated Megan Sullivan, VP of Government Affairs for the Vermont Chamber of Commerce. "The opportunity for legislators and business leaders to exchange information is invaluable. We appreciate Senator Ram Hinsdale taking the time to engage and proactively build relationships with business leaders. The Vermont Chamber will continue to be a resource for policy leaders throughout this upcoming session."
Business leaders from various industries emphasized the need for strategic workforce recruitment and retention efforts, and further investment in workforce housing infrastructure. These policy areas are among the top priorities for the Vermont Chamber of Commerce advocacy team in 2023.
"After losing several recruits to other states because they couldn't find a place to live, we've considered getting into the rental housing market to secure housing for our employees," stated Chris Kesler of Black Flannel Brewing Co. "But, with inflation, supply chain issues, and trying to keep our process reasonable, it's ever more challenging for small independent hospitality operators just to break even. The Vermont quality of life is not accessible to everyone, and that needs to change."
"With hundreds of employees globally, we have seen how the basic infrastructure in other states contributes to our ability to recruit talent," stated Roland Groeneveld of OnLogic. "Our business is headquartered in Vermont, and we are committed to continuing to invest here. However, the stark contrast between housing, transportation, and development resources in Vermont, versus other areas, deeply affects our operations. Businesses need to be able to stand on their own but having the basic infrastructure in place is key."
Sen. Ram Hinsdale expressed her support for housing reform and a commitment to prioritizing policy action that addresses workforce shortages.
"Growing up in a family business started by my immigrant father, and now supporting my husband in his family business, I have a deep respect for the contributions of business leaders," stated Senator Ram Hinsdale. "Vermont industries are the backbone of many communities, and I hope to make the essential investments in workforce infrastructure to ensure a sustainable economic future for our state. Workforce housing, continued pandemic recovery, and strategic investments in initiatives to recruit and retain a diverse workforce will all be areas of focus for me this upcoming session."
Additional business leaders in attendance; Janette Bombardier (Chroma Technologies), Willie Docto (Moose Meadow Lodge), Evan Langfeldt (O'Brien Brothers), Joseph Green (Joseph Architects), Sara Teachout (Blue Cross Blue Shield of Vermont), Roger Nishi (Waitsfield and Champlain Valley Telecom), Jason Williams (UVM Health Network). Incoming Representative Edye Graning (Chittenden-3) was also in attendance, as well as Kevin Chu, Executive Director of the Vermont Futures Project.