The Wellspring Forum Features Sen. Ann Cummings, Chair of the Senate Finance Committee, and Rep. Emily Long, House Majority Leader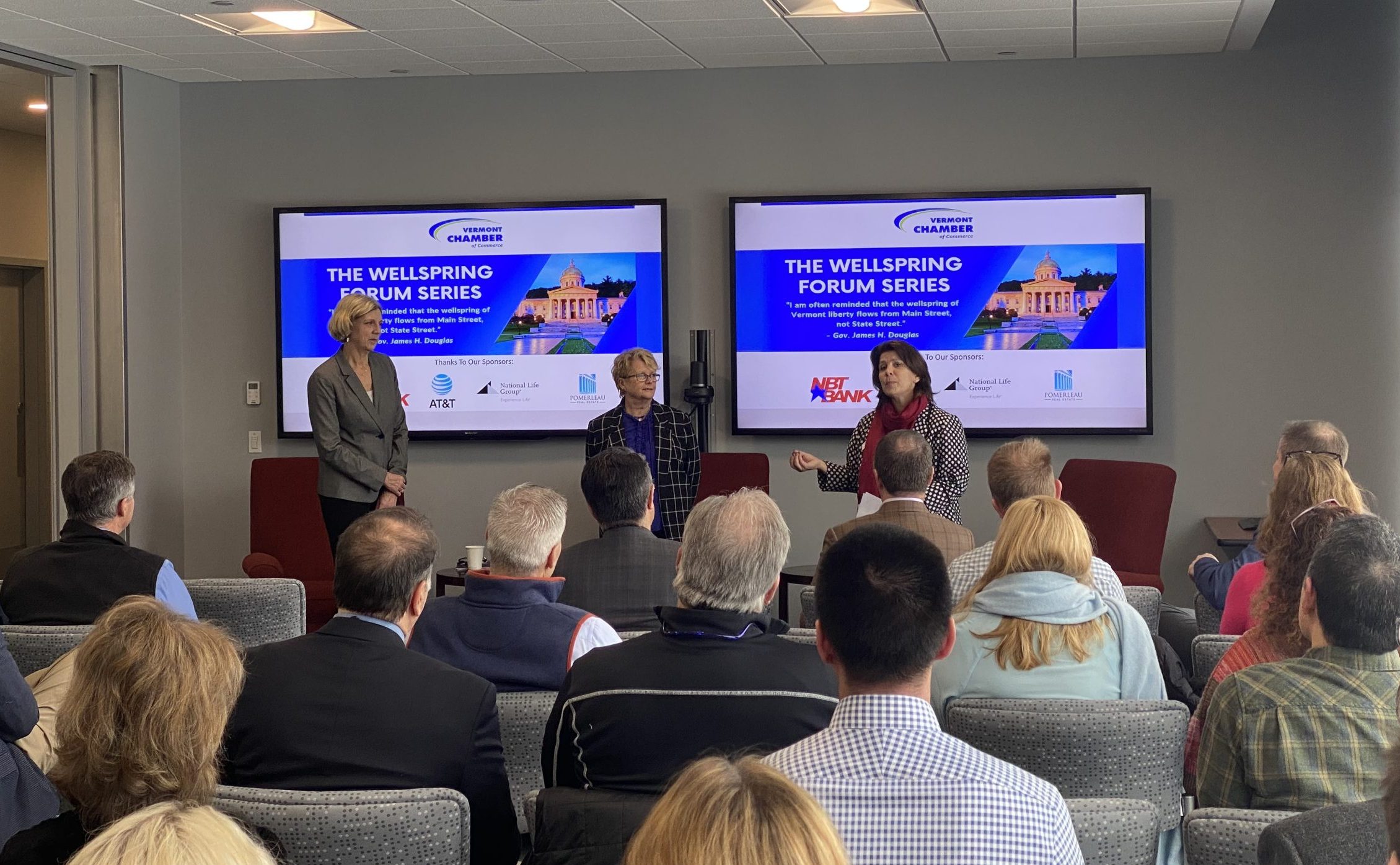 The successful Wellspring Forum series continues to bring together top Vermont businesses and policy leaders for robust economic discussions. Each event takes place at a unique Vermont business and features new speakers.
The third event in the series featured the chair of the Senate Finance Committee, Sen. Ann Cummings (D-Washington), and House Majority Leader Rep. Emily Long (D-Windham-5). The legislative leaders addressed the Vermont Chamber Board of Directors and other Vermont business leaders via a moderated conversation with Vermont Chamber President, Betsy Bishop.
In addition to ongoing workforce and housing concerns, the top issue discussed by businesses was the cumulative impact of anticipated tax increases to fund the multiple major proposals in discussion this legislative session. Businesses urged legislative leaders to consider the ability of Vermonters to meet an increased tax demand and the potential for unintended consequences if businesses are unable to do so.
"During a time of great uncertainty, we need to value economic stewardship," stated Bishop. "As goes the success of small businesses, so often goes the success of our communities. While legislative committees are working on multiple major investments that require new revenue streams, the Vermont Chamber is advocating for pragmatic decision-making, so the Vermont economy is not overwhelmed."

Sen. Cummings and Rep. Long spoke on several policy issues of interest to Vermont businesses, such as maintaining the small group and individual healthcare markets, solutions to address the ongoing workforce shortage, middle-income housing investments, and the future of the Vermont Employment Growth Incentive program.
"The key to moving policy forward is always balance, and businesses, just like people, sometimes need a lift," stated Sen. Cummings. "The economy needs to thrive, and the ability to grow business is the difference between Vermont being a place to live and becoming a theme park, only an attraction to visit."
"Hearing from Vermonters and advocacy groups is critical to the success of what we do," stated Rep. Long. "I look forward to continuing our collaboration to achieve shared goals. We want to pass a balanced budget that supports Vermonters and businesses in all 14 counties."
The event was hosted by National Life Group and took place at their Montpelier office.
"National Life has been part of the fabric of this state for 175 years," National Life Group Chairman, CEO, and President Mehran Assadi said. "The biggest challenge for us is the labor force. We currently have more than 120 open positions to fill."
The event title is inspired by Governor James H. Douglas' quote; "I am often reminded that the wellspring of Vermont liberty flows from Main Street, not State Street."