The Wellspring Forum Featured Commissioners of Economic Development, Housing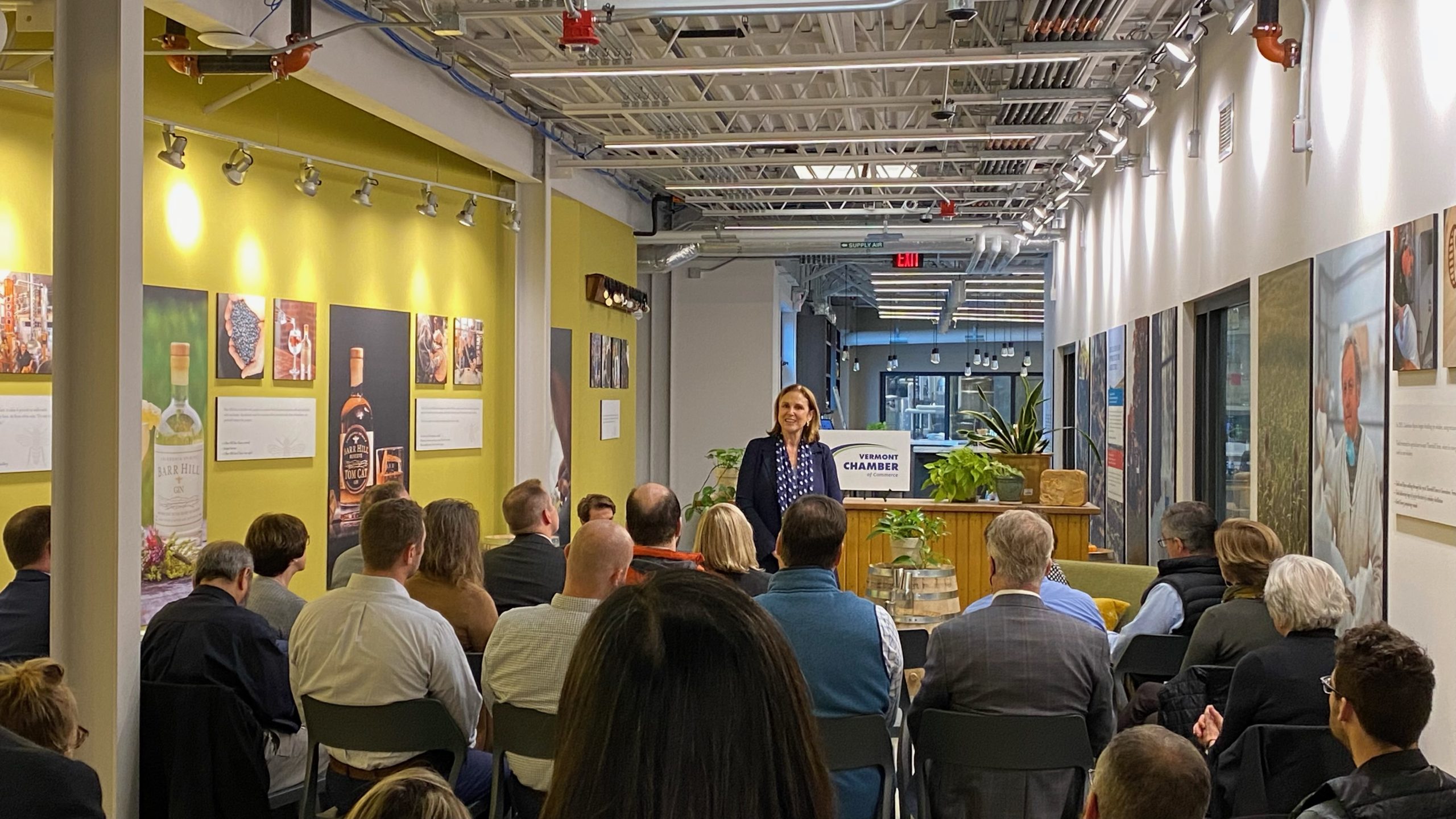 Following the success of the inaugural Wellspring Forum, the Vermont Chamber of Commerce is hosting an ongoing event series to bring together top Vermont businesses and policy leaders for robust economic discussions. Each event takes place at a unique Vermont business and features new speakers.
The second event in the series took place at Caledonia Spirits, in Montpelier, and featured the Commissioner of Economic Development, Joan Goldstein, and the Commissioner of Housing and Community Development, Josh Hanford.
Business leaders urged action on initiatives to grow the economy and attract more workers to Vermont. The issue of top concern was the statewide shortage of workforce housing. Businesses advocated for making regulatory reform a top priority to increase the supply of suitable housing for employees.
Commissioners Goldstein and Hanford addressed the Vermont Chamber Board of Directors and other Vermont business leaders via a moderated conversation with Vermont Chamber President, Betsy Bishop.
"The vitality of the Vermont economy depends on our ability to find consensus on tough policy issues," stated Bishop. "Even as we emerge from the pandemic, it's increasingly rare for professionals from different industries and parts of the state to gather together in the spirit of shared economic interests. The Vermont Chamber is committed to facilitating diverse groups of stakeholders to inform policy discussions, and we will continue this work in 2023."

The Commissioners spoke about several economic issues of top concern for the business community, including inflation, workforce recruitment, housing shortages, and the role of diversity, equity, and inclusion in the work of each Department.
"There are so many things that have to work in concert to address our economic challenges," stated Commissioner Goldstein. "Vermont needs business growth, housing growth, and population growth. Looking ahead, we can't just develop existing talent, we also need people to come to the state to work for Vermont employers."
"We have room to grow in this state in a way that doesn't impact the resources we love," stated Commissioner Hanford. "However, to grow as a state we need to maximize existing public investments and change the narrative in Vermont away from a historical aversion to development, and towards a more welcoming approach to growth."
The event title is inspired by Governor James H. Douglas' quote; "I am often reminded that the wellspring of Vermont liberty flows from Main Street, not State Street."
This Wellspring Forum was made possible by the support of the following sponsors: