Highlights From 2021 Manufacturing Summit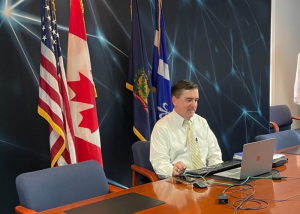 At the Vermont Chamber Virtual Manufacturing Summit last month, we hosted 250 B2B participants,
25 
OEMs, Primes, and Government Agencies
, hosted 400 B2B meetings (representing 100 hours of quality meeting time for buyers, 
suppliers
, and partners), facilitated workforce development with University of Vermont and Vermont Technical College students for jobs and internships, expanded the 
Aerospace Trade Corridor
 to Ontario, welcomed international trade delegations from Québec, Ontario, and Canada, and much 
more
. 
Please find additional highlights and results from the Summit below:
Expansion of Aerospace Trade Corridor to Ontario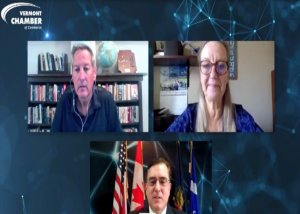 In support of our work to inter-cluster our aerospace and defense industries and provide our participants with access to new markets, contacts, shared best practices, and supply chain innovation and transformation, the Vermont Chamber, in partnership with the Ontario Aerospace Council, signed a new Memorandum of Understanding (MOU) at the recent 2021 Manufacturing Summit and officially expanded the Aerospace Trade Corridor to Ontario's $6 billion aerospace and defense sector. The MOU will provide the additional framework going forward for collaboration and partnership, which will foster the development of new, cross-border contacts and business opportunities as we reconnect and rebuild our supply chains.
Gov. Scott & Sen. Leahy at Vermont Chamber Manufacturing Summit
Governor Phil Scott and Senator Patrick Leahy were featured speakers at our 2021 Manufacturing Summit. Governor Scott discussed challenges presented by the pandemic, how the Vermont Chamber's Manufacturing Summit benefits participants, and the economic importance of Vermont's manufacturing industry. Senator Leahy noted the unique and important opportunity that attendees of the Manufacturing Summit had to learn from industry experts, convene, and build their networks.
Workforce Development with UVM and Vermont Technical College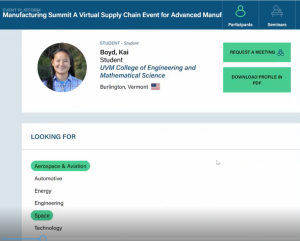 At our 2021 Manufacturing Summit, we provided important workforce development through partnerships with the University of Vermont College of Engineering and Mathematical Sciences (CEMS) and Vermont Technical College. The Vermont Chamber facilitated 20 interviews for students and soon-to-be graduates in STEM and advanced manufacturing with employer participants for jobs and internship opportunities.
"The Virtual Manufacturing Summit exceeded our company's expectations in every way. In a challenging environment, the Summit enabled effortless collaboration that would have otherwise been impossible. We are excited to see where the opportunities and partnerships that were established will lead as well as continuing our participation in the future."
"Thank you again for organizing another great event. The platform used for the B2B was wonderful. I've used it again a couple times since — and find it to be the best out there."
"Thank you for inviting Colt to participate in the Manufacturing Summit. I found it to be a very resourceful event (the matchmaker and individual conferences) and it provided me with 7 potential suppliers…for both our US and Canadian operations."